The Venus robot is guaranteed to attract attention at any public venu.
Designed for public displays, this 125cm (4.1ft) robot body provides a low cost mobile platform that can be fitted with various sensors and control systems depending on the customers needs.
The 22.8cm (9in) touchscreen tablet built into the chest provides a simple, programmable interface to the public. The tablet includes Bluetooth and WiFi interfaces for remote access and control.
The heavy duty aluminium base is strong enough to carry up to 50Kg of batteries and computer hardware if required. Two high torque, splashproof motors with heavy duty metal gears provide smooth quiet movement at low speeds.
The programmable motor controller has a voltage translated I2C interface that makes it simple to control with any processor. The addition of a Bluetooth module or a radio control receiver provide easy methods for manual control.
A dedicated 3-axis accelerometer in the motor controller can be used to help prevent the robot tipping over, detect impacts and provide feedback for smooth acceleration and electronic braking.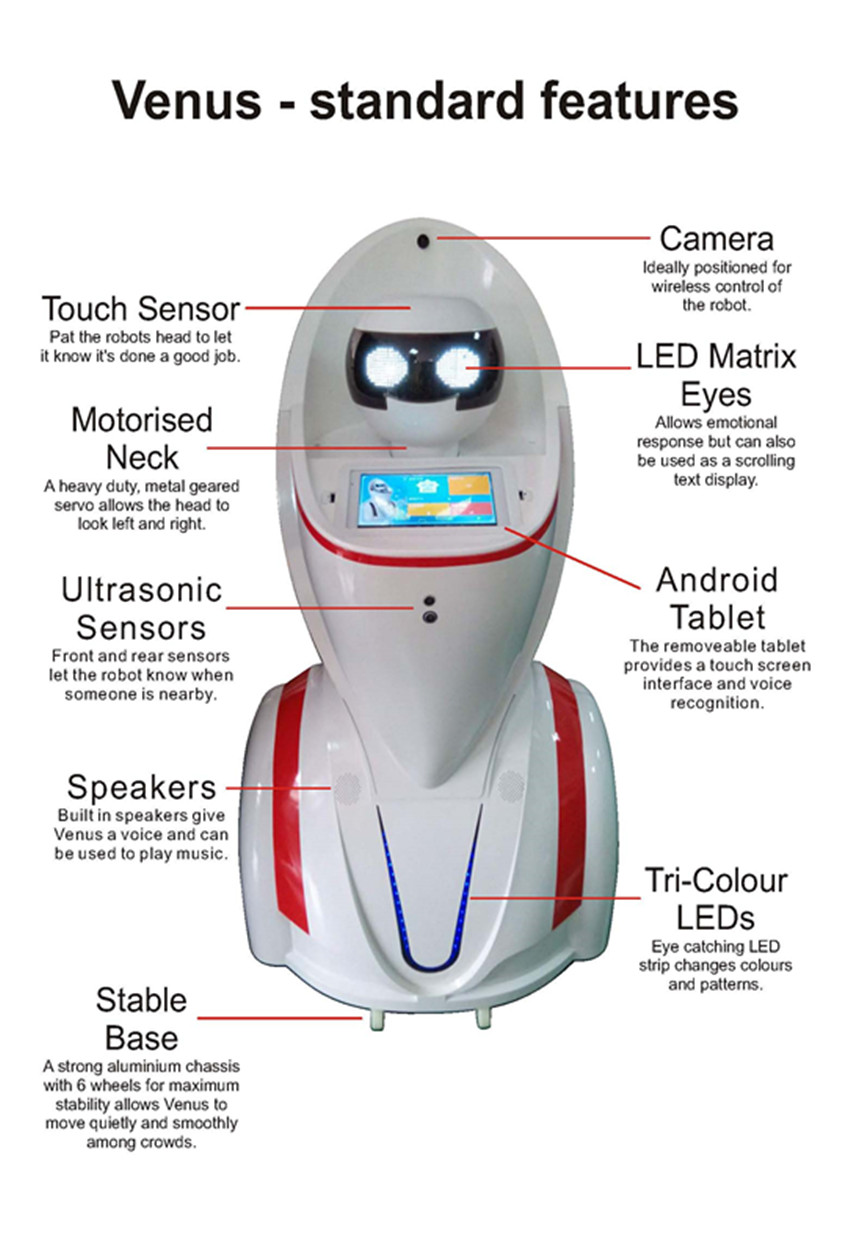 Body Specifications:
Height:
Width:70cm (2.3 ft)
Length:55cm (1.8 ft)
125cm (4.1 ft)
Touch Pad Specifications:
Operating System:Android 4.1
Processor:ARM Cortex A5
Speed:1.5GHz
Display Size:22.8cm (9 in)
Graphics Processor:Mali-400MP
Memory:512MB DDR3
WiFi:802.11b/g
Bluetooth:V2.1
Motor Controller Specifications:
Type:T'REX motor controller
Processor:ATmega328 at 16MHz (Arduino Compatible)
Input Voltage:6V - 30V
Switchmode Regulator Output:6.2V @3A
LDO Regulator Output:5V @ 2A
Motor Current:9A continuous, 18A nominal, 40A stall
High Current Electronic Switch:110A maximum @ 40V
Accelerometer:±1.5g or ±6g, 3-axis, analog output