One-touch sensor module Touch switch Touch switch Compatible with Arduino ROHS
The module is a capacitive touch-type touch switch module based on a touch detection IC (TTP223B).
Normally, the module outputs a low level and the mode is a low power mode.
When the corresponding position is touched with a finger, the module will output a high level and the mode will switch to a fast mode.
When the touch lasts for 12 seconds, the mode will switch back to low. Power mode.
The module can be installed on the surface of non-metallic materials such as plastics and glass.
In addition, thin paper (non-metal) is covered on the surface of the module.
If the touched position is correct, it can be hidden in the wall, desktop, etc. button.
This module allows you to avoid the troubles of conventional press buttons.
The module features are as follows:
Inching type: the initial state is low, the touch is high, not touched low (similar to the touch button function)
Low power consumption:
Power supply can be 2~5.5V DC
Both sides can be used as a touch surface, which can replace the traditional touch keys
4 M2 screw locating holes for easy installation
Action Note:
First light contact type touch sensor, and then hold the touch type touch sensor for a longer time, you can achieve the table lamp flashing and long light;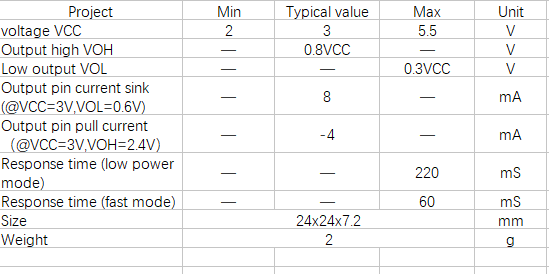 Control interface: a total of 3 pins (GND, VCC, SIG), GND is ground, VCC is the power supply, SIG is the digital signal output pin;
Power indicator: green LED, light up when powered on;
Touch area: The internal area of the icon resembling a fingerprint. Touch with a finger to trigger it.
Locating holes: 4 M2 screw positioning holes, with an aperture of 2.2mm, make the module easy to install and position, and realize the combination between modules.