DAGU educational robot 6WD wild thumper chassis (Silver body with 34:1 gearbox)CE certificate ROHS
Four options for your choose: ( when order,please let me know which option you need)
1. Silver body with 34:1 gearbox
2. Silver body with 75:1 gearbox
3. Black body with 34:1 gearbox
4. Black body with 75:1 gearbox
It should be noted that the Wild Thumper chassis's are high powered chassis's designed to work with popular 7.2V NiMh or 7.4V LiPo battery packs.
The chassis comes pre-wired however power wiring between the battery and the controller should be automotive wire with at least a 20A rating.
Video of 6WD fighting fire: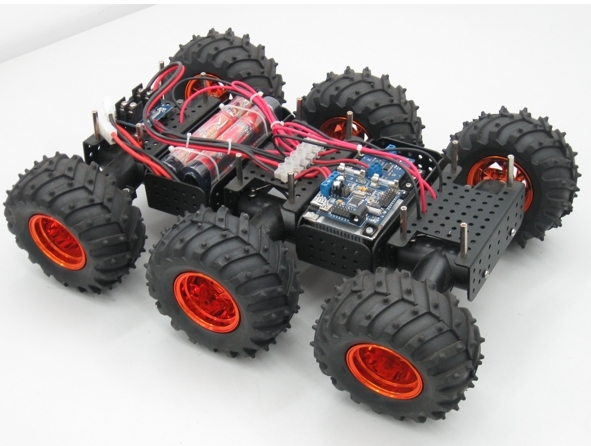 We have a new controller available now for controlling the Wild Thumper chassis called the T'REX robot controller.
The T'REX is more than just a high powered motor controller ans switchmode power supply. It is an Arduino based robot controller.
Using the supplied sample code the T'REX can automatically detect if an RC receiver or bluetooth module is connected.
If no remote control method is detected then it defaults to I2C control intended for autonomous robots.
Each unit comes pre-assembled in a colour printed box. Wheels only need to be fitted with supplied allen key. A simple printed manual is included.
Product parameters:

Size: 425 * 300 * 120mm
Chassis Universal plate (fixed plate) Aperture: 4MM
Rated Voltage: DC 6V (minimum 2V maximum 7.5V)
Maximum Stall Current 5.5A
Each motor no-load current: 350mA
Motor RPM: 10000 + / - 5%
Output shaft speed: 295rpm + / - 5%
Stall Torque: 4Kg/cm
Bike Weight: 3.5KG
Single motor torque: 12Kg · cm
Rated voltage: 7.2V
Maximum traction force: 28N
Maximum Load: 6KG (75:1); 5KG (34:1)
There are two motor gear box ratio for selection: 75:1 and 34:1 (two kinds of gear ratio of the body at the same price)
75:1 bodywork features: slower, suitable for lawn, snow, mounds, stone ground, you can climb stairs, powerful, load slightly stronger.
34:1 bodywork features: flat (crushed gravel, cement, asphalt, dirt roads, beaches) moving fast, the load is poor, there is no large stones mound area, speed and power is also good.
Note: More than 30CM height above the side of the fall, may be motor gear box cause permanent flawed.

Product Details Dimensions: